"Goût Russe Douchka" : a tea story
In the 1950s JeanJUMEAU-LAFOND, owner of DAMMANN Frères, created an orange-flavored tea for his wife's enjoyment. This Goût Russe Douchka blend has grown in popularity over the years to become a huge favourite with consumers, and marked the start of the renaissance of modern flavored teas.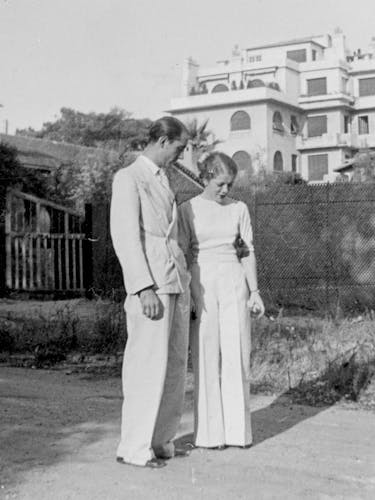 It all began in 1935, when Jean JUMEAU-LAFOND —then aged 24—landed his first job in the world of premium hospitality, working at the reception of one of Germany's most stunning luxury hotels, the Atlantic, in Hamburg. He soon fell in love with a young Russian woman named Véra Winterfeldt, who was none other than the owner's daughter. He eventually married her, completely unaware of the pivotal role this great tea lover would play in creating one of DAMMANN Frères' leading creations, Goût Russe Douchka...
A few years later, Jean and Véra moved into an apartment in Paris with their two young sons, Jacques and Didier. One day, with Jean now at the head of the DAMMANN Frères company, he noticed Véra JUMEAU-LAFOND adding a slice of orange to a cup of Earl Grey to bring a hint of sweetness to the unctuous and delicate liqueur. Inspired by this unassuming, personal touch, Jean decided to try his hand at a bold alliance of flavours. He tested these new ideas, not in the company's head office in the Marais, but in his sons' bedroom. In the middle of the room stood an empty wooden tea chest the boys used as a nightstand. Jean filled this with Earl Grey tea layered with blotting paper (borrowed from his sons) sprayed with sweet orange essential oil. The chest, which remained in the room for several days, became a memory neither child ever forgot and marked the start of a love of tea passed naturally from father to sons.
Didier and Jacques would go on to become, one after the other, the directors of the company. A few days later, when Jean opened the chest, the results were undisputable. After tasting the tea and asking his wife to do the same, it was clear that the bet had paid off! The alliance of orange with the Earl Grey bergamot was particularly delicious. In tribute to his wife, Jean decided to name this first modern flavoured tea Goût Russe Douchka, "douchka" meaning "my beloved" in Russian.
"My father then shared the tea with a friend, the director of the Printemps stores. It was an immediate hit. People flocked to get their hands on Goût Russe Douchka. It is an extraordinary tea, because the orange softens the hardness of the bergamot," explains Didier JUMEAU-LAFOND. "Earl Grey is a mixture of Chinese teas simply flavoured with bergamot, but Goût Russe Douchka is much more complex. It calls on the three noble origins of Sri Lanka, India and China, and the flavouring is based, not on a single fruit, but several. It was the perfect combination and, although the blend was extremely difficult to reproduce, most tea producers soon tried to copy it," adds Jacques JUMEAU-LAFOND.
More than 60 years after the Goût Russe Douchka flavoured tea was first created, DAMMANN Frères released a new version of the iconic blend, a mixture of three Chinese teas with an inimitable aromatic bouquet that combines the aromatic intensity of Calabrian bergamot with the fresh and fruity energy of finger lime this was named Grand Goût Russe.