What a scented tea is?
A powerful fragrance source, freshly picked flowers and fruit peel have been used to flavor teas for centuries. Rose, magnolia and chrysanthemum are also often used, as well as jasmine which is undoubtedly the most popular of all and which boasts various qualities according to the base tea used and the care taken in its production.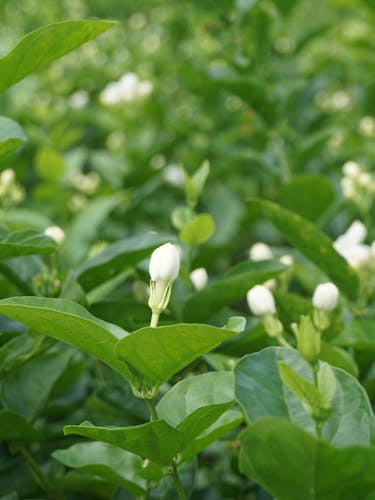 To make jasmine tea, green tea leaves are generally harvested and processed in April. This green tea is then stored until the jasmine is harvested in August. Picked in the middle of the afternoon, the jasmine flowers are left to rest for a few hours until they have opened completely and the temperature has dropped.
Next, an initial blend of dry tea leaves and jasmine flowers is made by layering them alternately on top of each other in four or five layers of 10-15cm each.
The tea leaves and flowers are left in contact for around 10 hours, allowing the floral jasmine fragrance to be absorbed by osmosis into the green tea leaves. During this time, the mixture is regularly tossed so that the pile's temperature remains constant at around 98,6°F.
The flowers are then removed by hand, one by one. The thoroughness of this process depends on the desired tea quality. The leaves then undergo a final drying process.
To achieve the highest quality jasmine tea, this entire operation may be repeated up to seven times. Each time, a new batch of fresh flowers is required.
Where the pleasure of taste meets floral art: blooming teas.
To create the most famous fun form of tea, blooming tea, downy tea shoots are assembled by the agile hands of workers. They are tied into small bundles with white cotton thread, then bouquets of flowers are inserted in the centre. The small bunches are closed around this floral centre, making a sculpted ball enclosed in a piece of fabric that conserves the shape and draws out any excess moisture.
After being prepared, the flower balls are then put in a dehydrator to be fully dried.
To enjoy this amazing spectacle, simply infuse a ball in a transparent glass or a glass teapot.
Our selection of floral teas
Our articles on flavored tea
Our articles on flavored tea