As a photonovel : Partnership DRUCKER X DAMMANN Frères 1/2 - 2021
Imagined in collaboration with the Maison Louis DRUCKER, an assortment of teas and herbal teas in sachets gathered in gift sets with design inspired by three weaving patterns of the famous "Parisian chair" which makes the charm of the terraces of our cities. Lia ROCHAS-PÀRIS, a multidisciplinary artist invites you to discover the genesis of the "Parfums de Saison" sets through a roman-photo, which introduce the collaboration of two French houses with unique know-how and who share the same passion for our bistros and restaurants!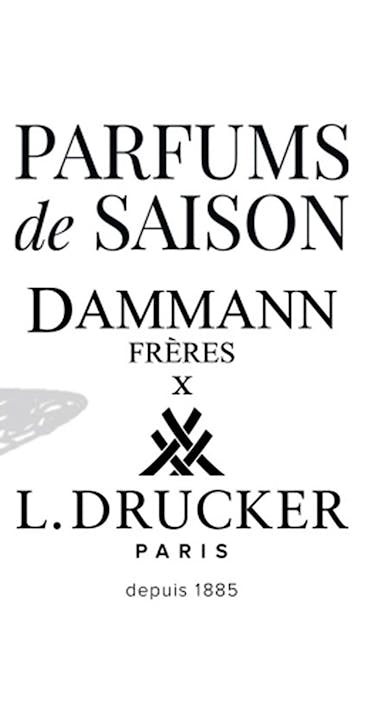 Follow "Like a Photo-Roman" with DAMMANN Frères
Lia ROCHAS-PÀRIS: Maison DRUCKER was first established in the 19th century. Can you tell us a little about it?
Bruno DUBOIS: Louis DRUCKER was founded in 1885 and was one of many businesses to produce rattan furniture. In the 1860s, rattan was hugely popular and there were some two-to-three hundred manufacturers in France in the 19th century.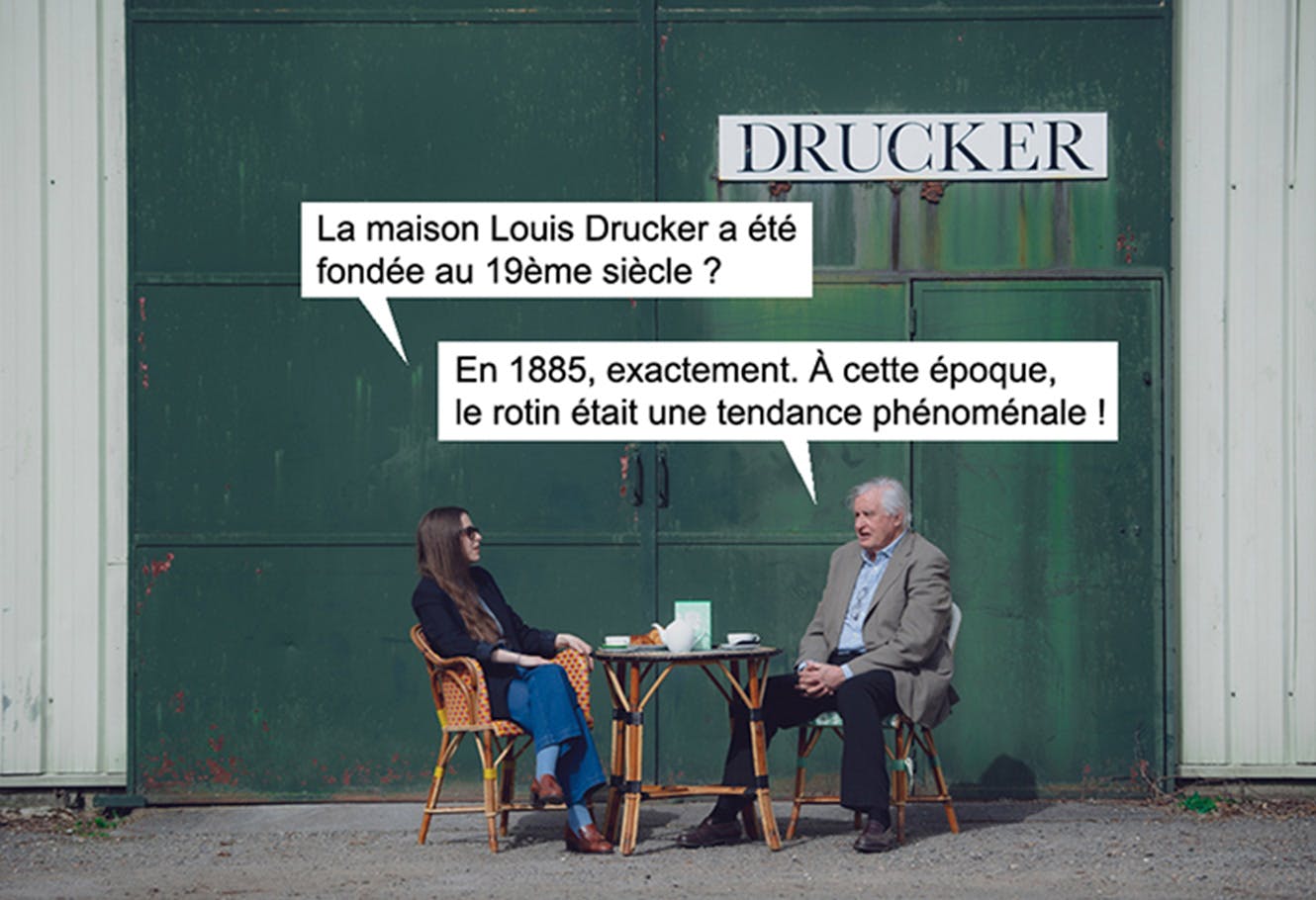 Lia ROCHAS-PÀRIS: That's incredible! What made it so popular?
Bruno DUBOIS: It was a way of producing cheaper furniture. Drucker is the last surviving manufacturer from the era. Its expertise has been passed down from generation to generation. It survived undoubtedly because of Louis DRUCKER's creativity.
Lia ROCHAS-PÀRIS: Was rattan furniture produced for the general public too?
Bruno DUBOIS: At the time it was made almost entirely for the general public! The furniture was sold at La Samaritaine and in Le Bon Marché (Parisian department stores). There were less bistros than today. Over time, rattan then became less popular in the home. But it remained an iconic element of bistro furnishings simply because no suitable replacement was found. We make everything by hand. Rattan requires a complex artisanal technique. It's a unique and labour-intensive craft. The chairs need to be solid but also lightweight so they're easy to take in at night and stack up.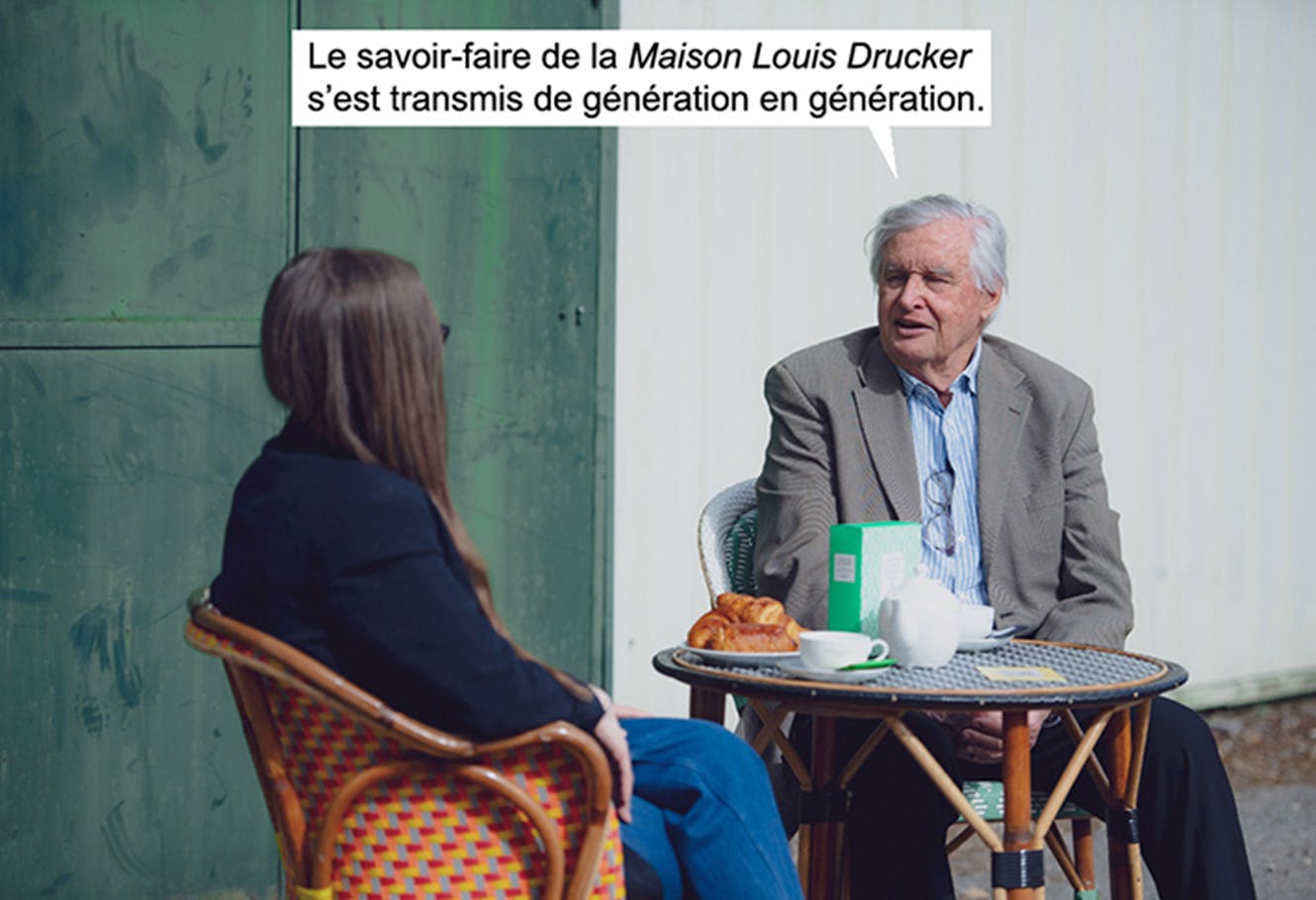 Lia ROCHAS-PÀRIS: The rattan furniture found in bistros has become an emblem of Parisian life. Every café and restaurant has its own identity thanks to the range of colours and canework available.
Bruno DUBOIS: That's right! We can weave together all sorts of colours to create identities for each location. The design, weaving method and choice of colours are what makes each piece a unique trademark for cafés and restaurants. For example, we have always supplied furniture to 3Café de Flore3, whose colours are forest green and burgundy, and which uses a very specific weaving style. Other places, like Angelina, use the same models as their parent company.
Lia ROCHAS-PÀRIS: DRUCKERs furniture also helps actively develop a location's unique identity.
Bruno DUBOIS: Yes, it does. More and more franchises are developing, and groups have been become more international over the last decade, and we help these organizations build their brand image, which depends in large part on their rattan furniture.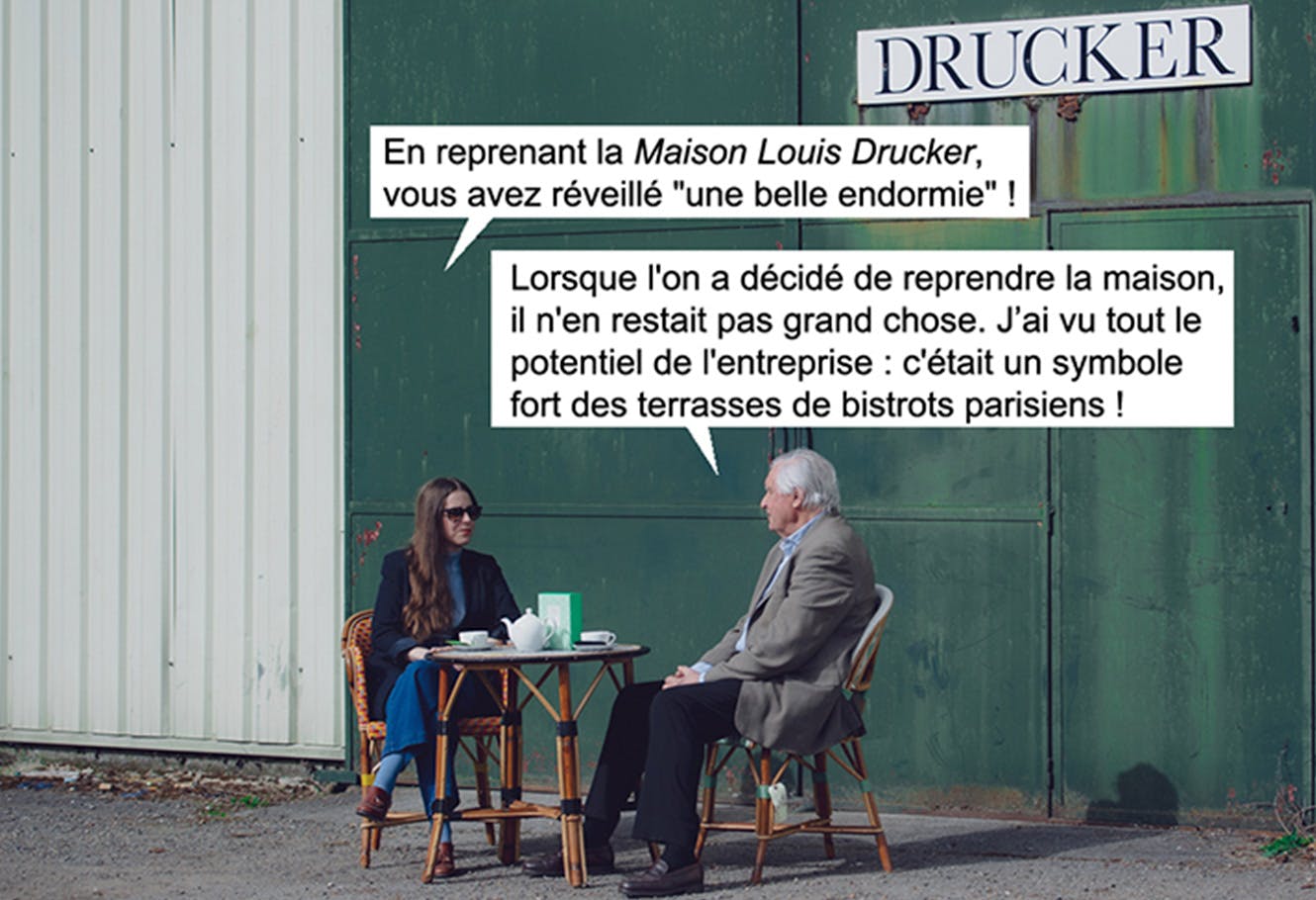 Lia ROCHAS-PÀRIS: When you took over Maison Louis DRUCKER, you awoke a "sleeping beauty"!
Bruno DUBOIS: When we decided to buy Maison DRUCKER just 15 years ago, there wasn't much left of it. But I could see the business' potential. It was a strong symbol of Parisian bistro terraces.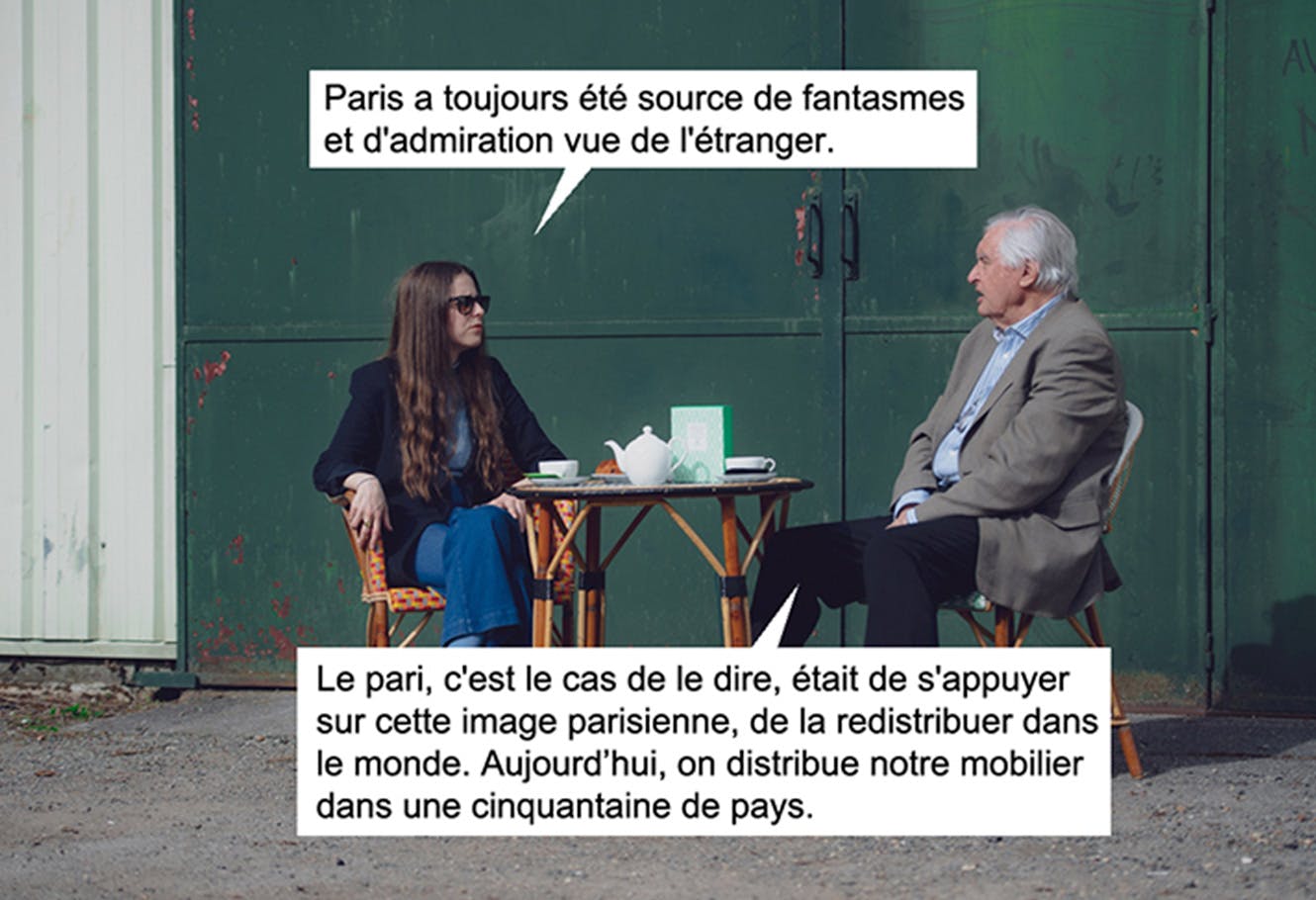 Lia ROCHAS-PÀRIS: Paris has a very strong image in terms of both fashion and décor. Paris has always been an inspiration and admired by other countries. Particularly for its café terraces.
Bruno DUBOIS: The aim was to use this image of Paris and to bring it to places all across the world. And it was a success! We now distribute our furniture in some 50 countries.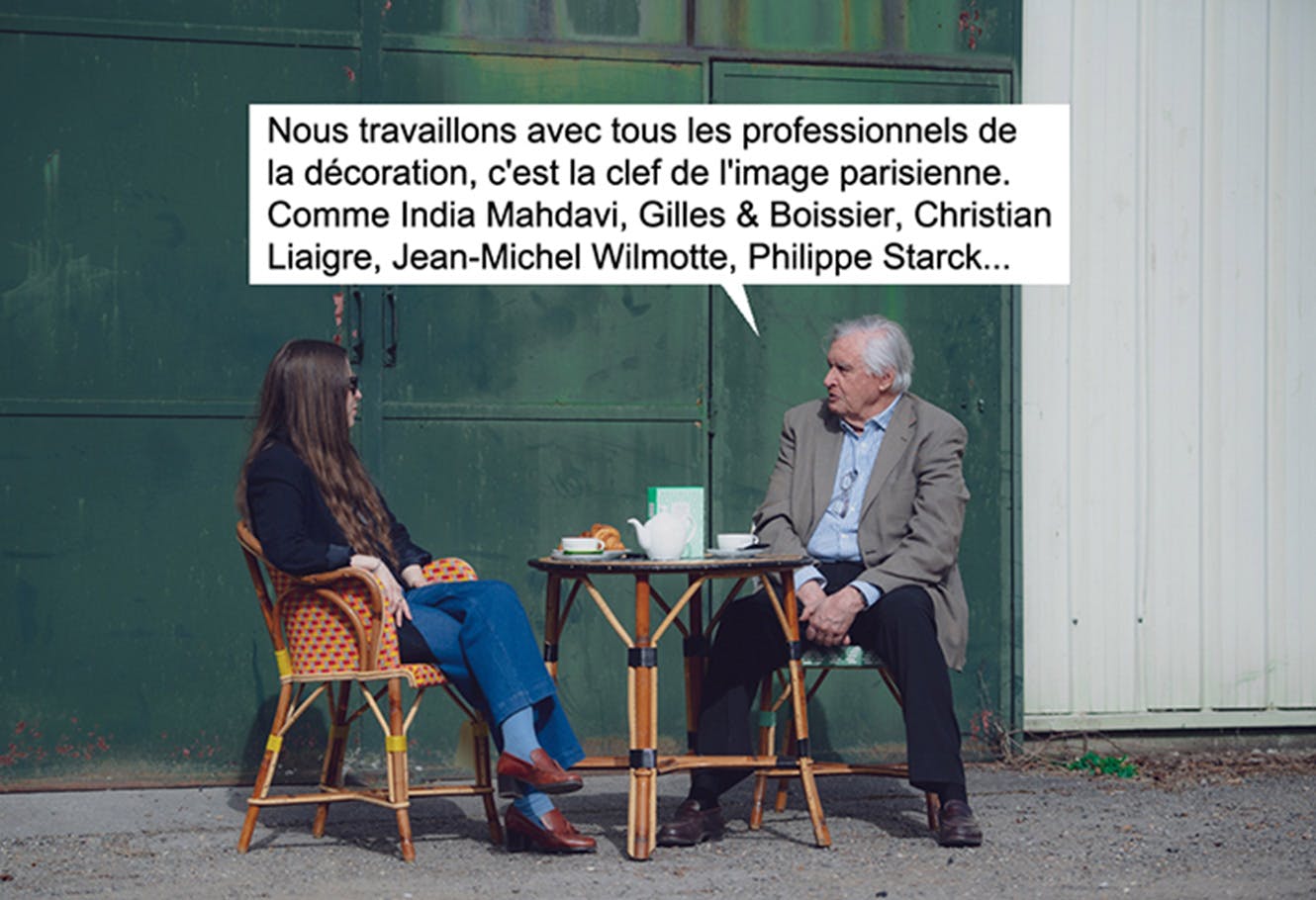 Lia ROCHAS-PÀRIS: Has the public taken a renewed interest in the style?
Bruno DUBOIS: Absolutely. Although we do primarily sell to businesses like bistros and hotels, thanks to the miracle of the internet, we are seeing more and more orders being placed for homes across the globe. We can also customize pieces, from the shape of the furniture to the choice of colours and type of canework. People are using DRUCKER furniture on their patios, verandas and even in their kitchen.
Lia ROCHAS-PÀRIS: So, while all the bistros are shut, you are offering people the chance to create a little bit of Paris in their own homes! ... Do you think the pandemic has influenced people's interest in rattan?
Bruno DUBOIS: It's possible. Rattan does seem to be coming back into fashion. It can really add colour and brighten up interiors. You see it most in the US, where customers will buy ten chairs, two armchairs and a table to make their huge kitchen look like a Parisian bistro.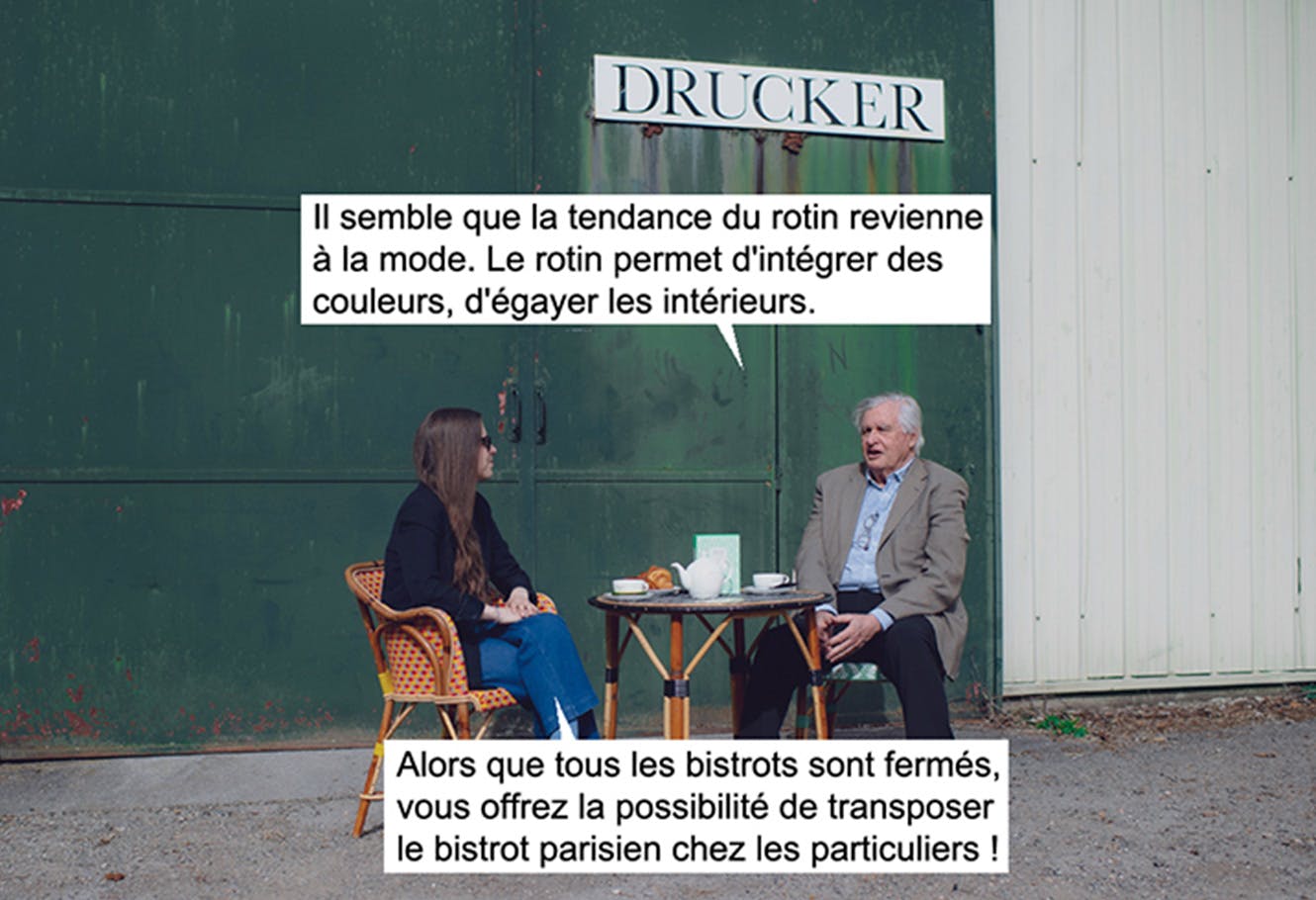 Lia ROCHAS-PÀRIS: Do you work with designers, decorators, and interior designers?
Bruno DUBOIS: We do. We work with all sorts of interior design professionals. That's the key to the Parisian style. These include, for example, India Mahdavi, Gilles & Boissier, Christian Liaigre, Jean-Michel Wilmotte and Philippe Starck. Our goal is to work with professionals who want to associate the furniture with their brand.
Lia ROCHAS-PÀRIS: You took over Maison Louis DRUCKER 15 years ago. Now you work as a family, just like the original company!
Bruno DUBOIS: We've left the ranks of forgotten companies. That required a lot of passion and patience. Changes are slow and require a lot of faith. When I first bought the business, I was on my own. Now I am delighted that my son Diego has become a key part of Maison DRUCKER. His twin sister is starting to get involved too and the business is really becoming a family affair again. We believe in the company, and everyone involved in it.
Lia ROCHAS-PÀRIS: Are you helping preserve a special craft through the business?
Bruno DUBOIS: We've revived it. The business was in liquidation. When I took over, I could see the potential, everything that could be done with it, and I knew straight away that I could return it to the former glory of its early days.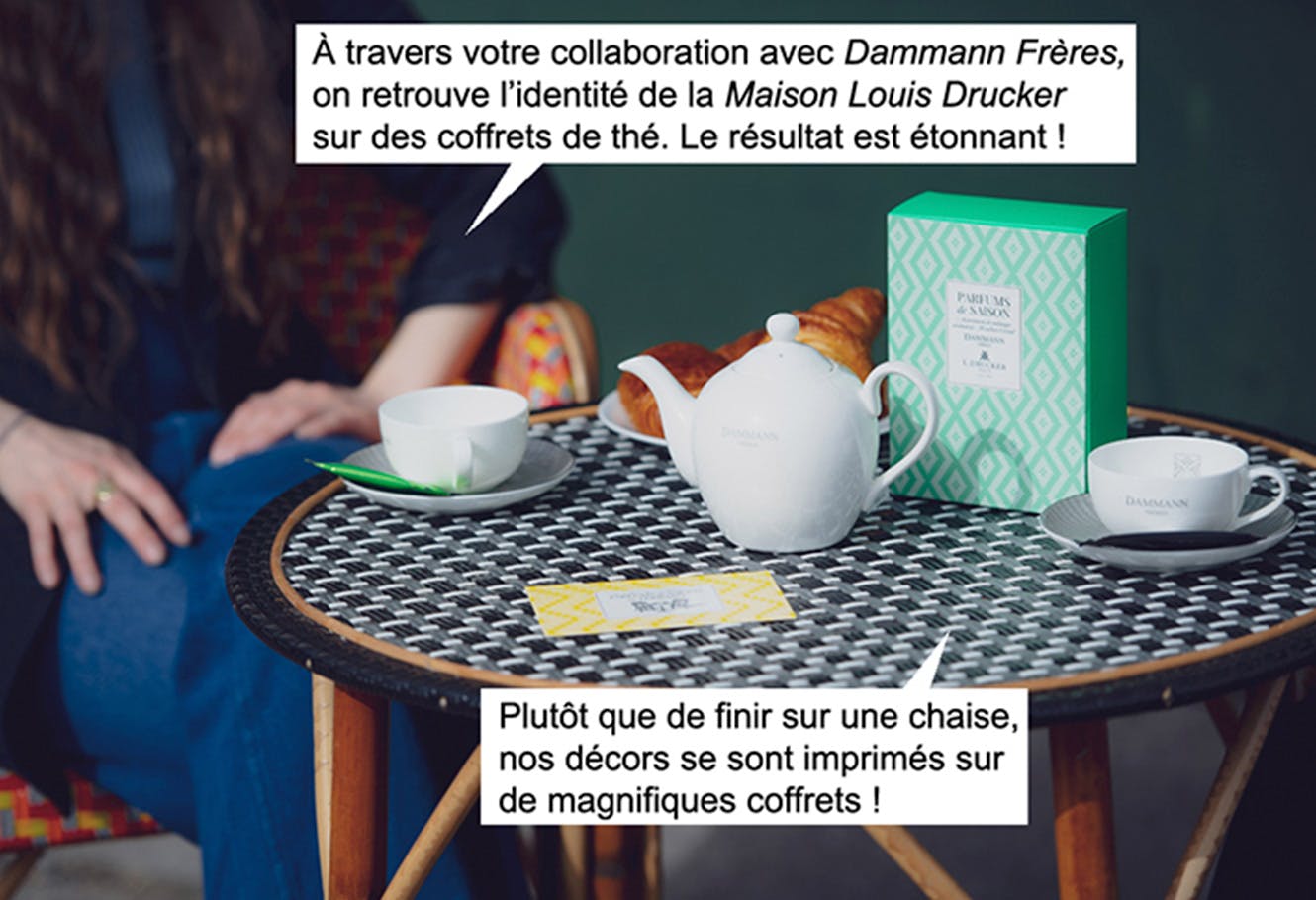 Lia ROCHAS-PÀRIS: With DAMMANN Frères, you worked on something other than furniture. Drucker's style was brought to the boxes of DAMMANN Frères tea...
Bruno DUBOIS: DAMMANN Frères invited us to work with them on this project, and we thought it was a great idea. Helena, one of our sales representatives, studied the project in detail with the DAMMANN Frères team to help combine our two universes.
We came up with numerous different styles. And rather than creating a chair, the décor was printed onto beautiful boxes of tea. You can now drink our DAMMANN Frères tea sat comfortably on a piece of DRUCKER furniture!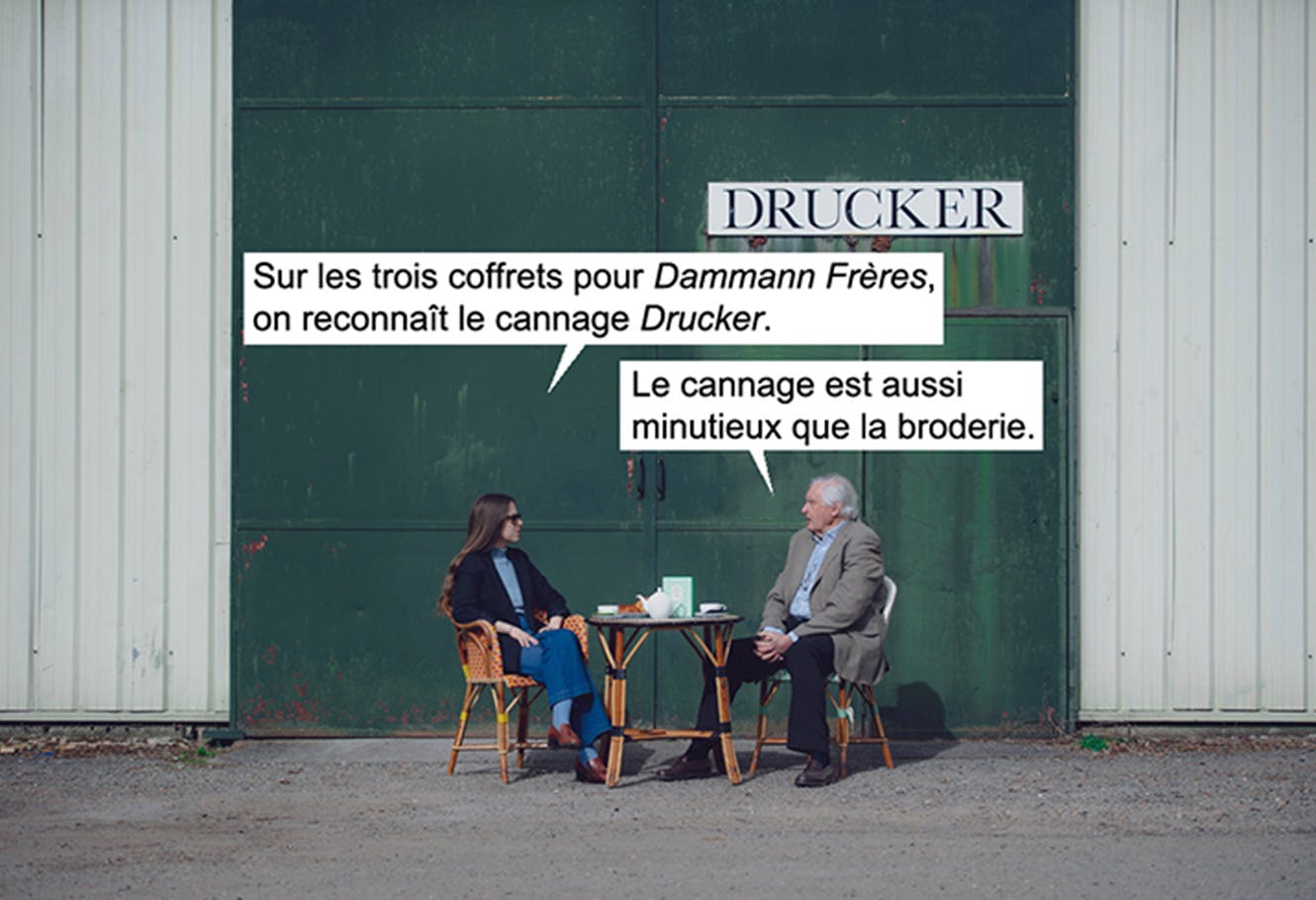 Lia ROCHAS-PÀRIS: You can see the Louis DRUCKER canework on the boxes produced for the Dammann Frères collaboration. It's quite an artform!
Bruno DUBOIS: It is! Canework is as detailed as embroidery. It involves a lot of dedication and is quite repetitive work. Our artisans are really inspired by the joy of creating, it's a technique they have completely mastered. The pace needed for this type of work is very demanding. Real craftsmanship like this requires lots of time, endless patience, and unique expertise.
Our selection of seasonal teas
Our articles on DAMMANN Frères partnerships
Our articles on DAMMANN Frères partnerships