As a photonovel : Partnership DRUCKER X DAMMANN Frères 2/2 - 2021
Imagined in collaboration with the Maison Louis DRUCKER, an assortment of teas and herbal teas in sachets gathered in gift sets with design inspired by three weaving patterns of the famous "Parisian chair" which makes the charm of the terraces of our cities. Lia ROCHAS-PÀRIS, a multidisciplinary artist invites you to discover the genesis of the "Parfums de Saison" sets through a roman-photo, which introduce the collaboration of two French houses with unique know-how and who share the same passion for our bistros and restaurants!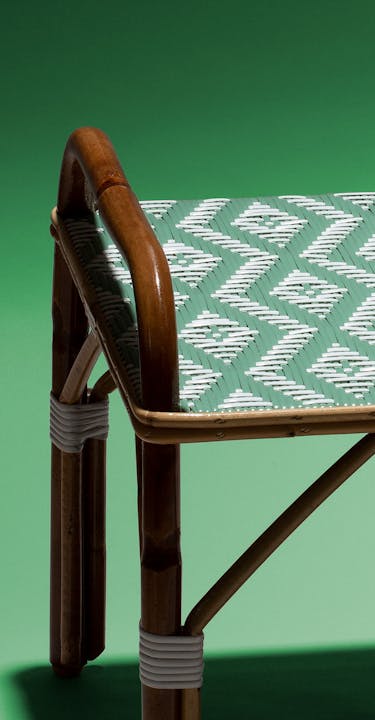 Follow "Like a Photo-Roman" with Maison DRUCKER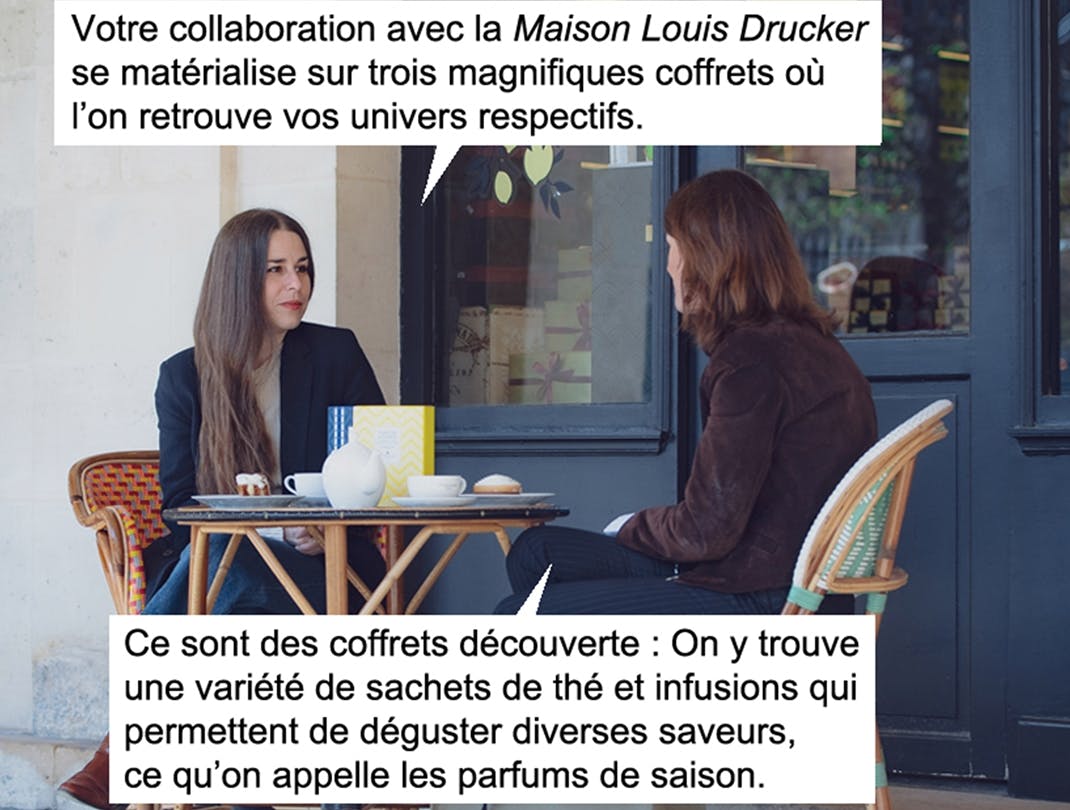 Lia ROCHAS-PÀRIS: DAMMANN Frères has always been a family business. Can you tell us about how the company came to be?
Flora JUMEAU-LAFOND: It all began in 1692, when Lord DAMAME me was given permission to sell tea, coffee and chocolate under King Louis XIV. The connection with my family goes back to my grandfather, Jean JUMEAU-LAFOND, who was a concierge in a hotel where he saw the DAMMANN family delivering crates of tea. He developed a passion for the product and wanted to learn more. That's when he decided to join the small-scale structure to help introduce tea to France. At the time, the French were not big tea-drinkers. My grandfather began to build up customers near his home, whom he would deliver to with a small moped, then he began making small mixes of tea in my father's bedroom, adding essential oils which he would leave to macerate for days. Finally, he visited delicatessens who didn't yet sell tea at the time. And that's how our family's history with DAMMANN Frères began. The moped was eventually replaced by a van and the apartment by a small workshop outside Paris, and that's how the business developed.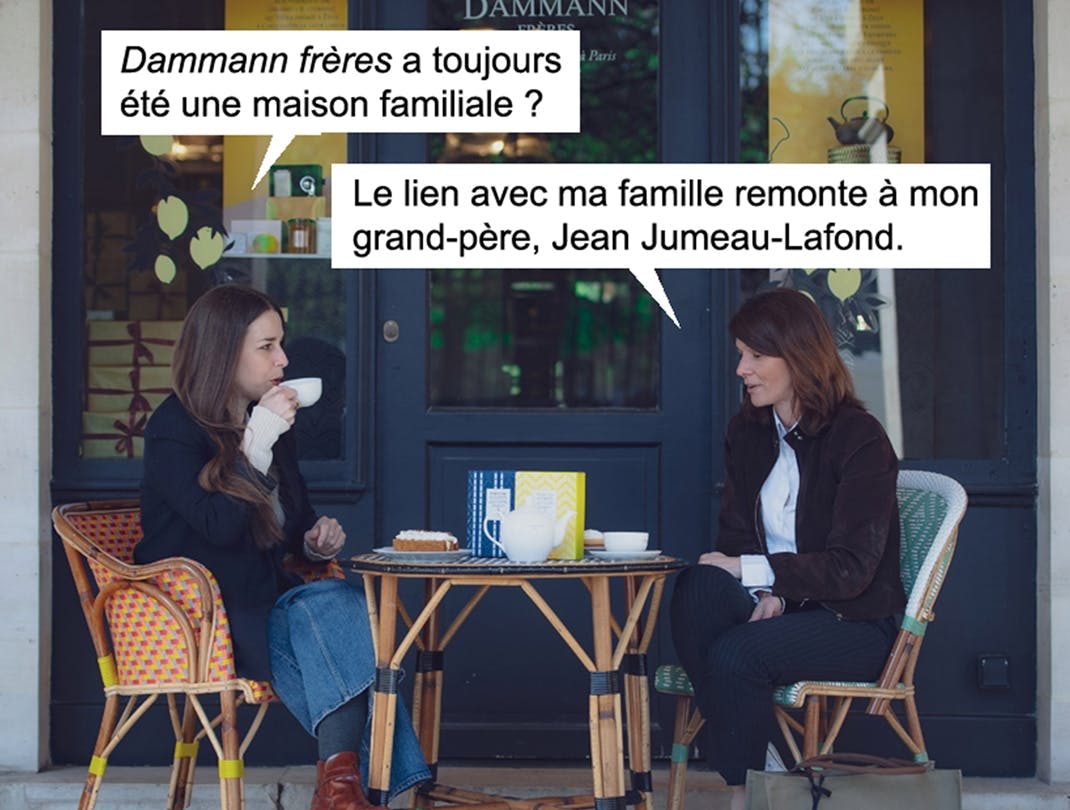 Lia ROCHAS-PÀRIS: Goût Russe Douchka black tea was your first flavoured tea. What's the story behind it?
Flora JUMEAU-LAFOND: My grandmother was Russian and always used to add a slice of orange to her cup of Earl Grey. Earl Grey is a Chinese black tea with bergamot essential oil. The slice of orange softened the bitterness. My grandfather, who watched the ritual every day, wanted to create a bespoke blend for my grandmother by adding orange essential oil; and that's how DAMMANN's iconic tea -Gout Russe Douchka- was born. "Douchka" means "darling" in Russian.
Lia ROCHAS-PÀRIS: What a beautiful demonstration of love!
Flora JUMEAU-LAFOND: And that was the start of our flavoured teas! Then, with the vanilla trading post in Madagascar, we began adding a vanilla pod, which was also a success. And so on and so forth...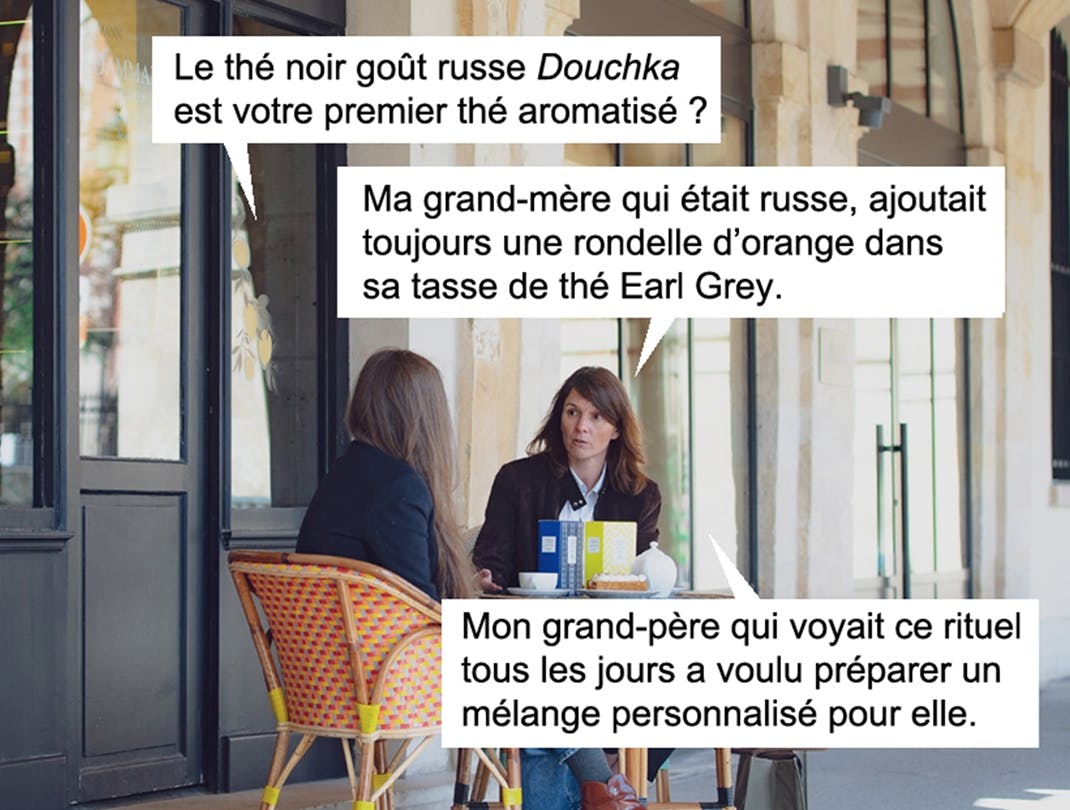 Lia ROCHAS-PÀRIS: The different flavours of teas evoke the joy of travel.
Flora JUMEAU-LAFOND: They do! Tea grows in remote countries. We source it from China, Japan, India and Sri Lanka. Last year we discovered excellent plantations in Colombia. There is a sense of exploration when searching for tea.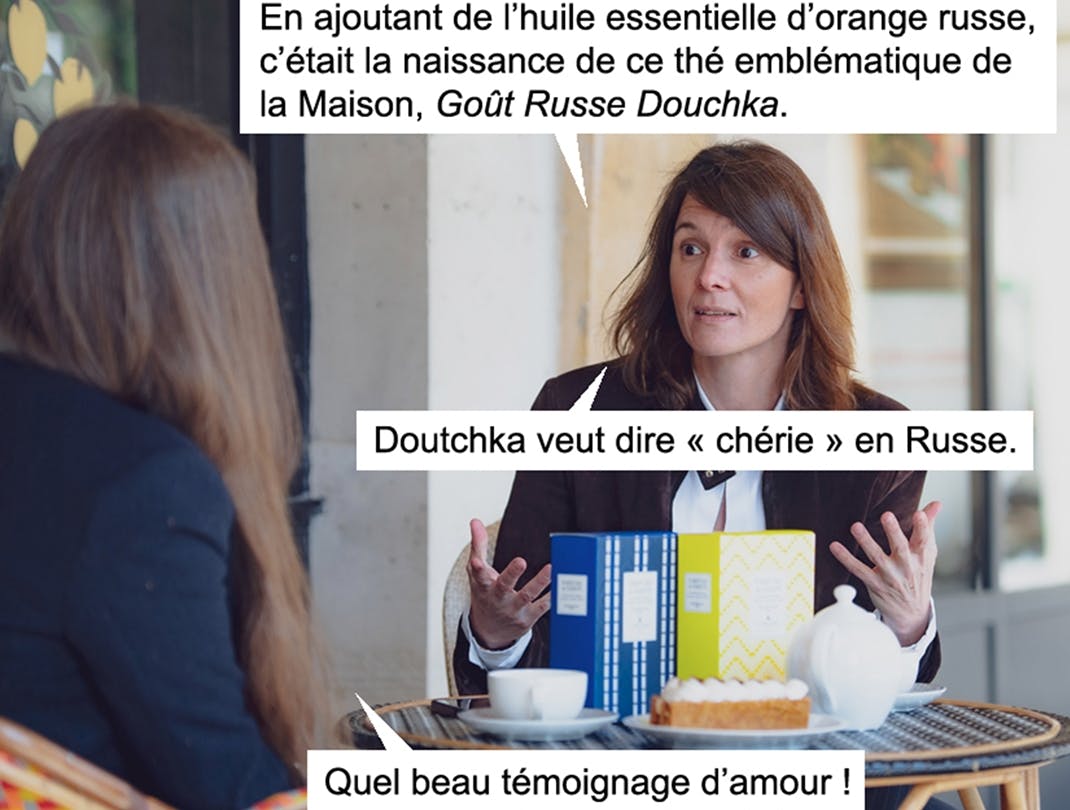 Lia ROCHAS-PÀRIS: How do you come up with the different flavours?
Flora JUMEAU-LAFOND: We work with Aline, a flavourist who has been with us for over 20 years. Actually, this year she will be passing the baton on to a new flavourist, Tiphaine, who will be taking her place. In this job, passing on knowledge and skills is essential, these are things you can't learn at school. It's mainly about sensibilities. Like our buyers and blenders. My cousin, Emmanuel JUMEAU-LAFOND who is a tea blender, not only travels the world looking for the best plantations and plots, but also makes sure every blend has the same taste every year. It's very important that the tea you enjoy always has the same flavour. Sometimes, seven or eight different teas are blended together to ensure consistency. He learnt it from his father, who learnt it from his father... It's a sensory education of the palate. The more flavours you taste, the more you build up your olfactory memory. For the first time, this year we will be working with a Michelin star chef. It's incredible to see their olfactory palette and compare it with ours to see what can bring us together in terms of flavours.
Lia ROCHAS-PÀRIS: There's an entire chemistry behind it! Apparently, our olfactory memories are the strongest. Personally, cucumber has always reminded me of the start of spring, ever since I was a child.
Flora JUMEAU-LAFOND: Exactly! We launched a cucumber tea last year. We're always looking for things that awaken the senses. As we're a manufacturer, we have all the raw ingredients available in Dreux. We tried cucumber and it worked! We're always looking for new flavours. And when we find ourselves saying, "I'd love a pot of that", we launch the product. Every year, some twenty new blends are created. Because our factory and all our expertise are grouped together in France, from Dreux to Eure-et-Loir, we have the advantage of having complete control over the production chain and are also able to respond very quickly to new ideas.
Lia ROCHAS-PÀRIS: You've kept your grandfather's boldness and creativity!
Flora JUMEAU-LAFOND: Yes, at DAMMANN, everyone plays their part. We release products that reflect our passion and expertise.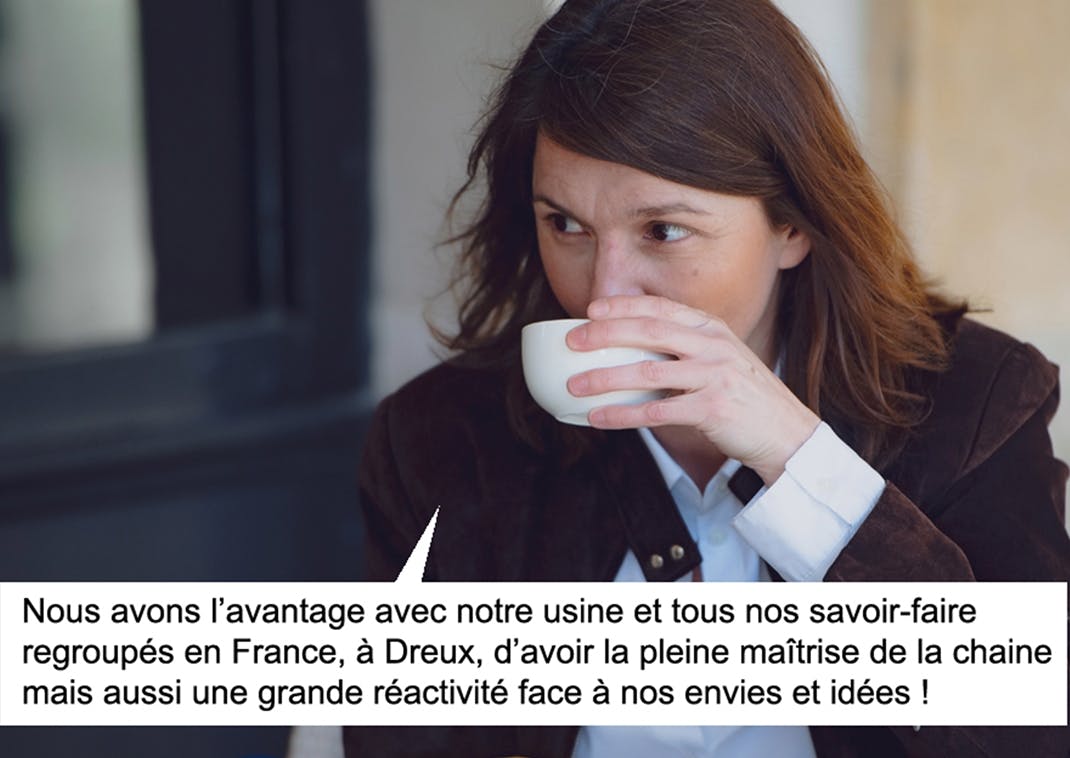 Lia ROCHAS-PÀRIS: Since the pandemic, we have all been looking for ways to escape. You might even say tea is like a journey without travelling.
Flora JUMEAU-LAFOND: Yes, exactly. We all need relaxing moments where you savour the present, and tea gives you time for yourself, to escape without leaving your chair.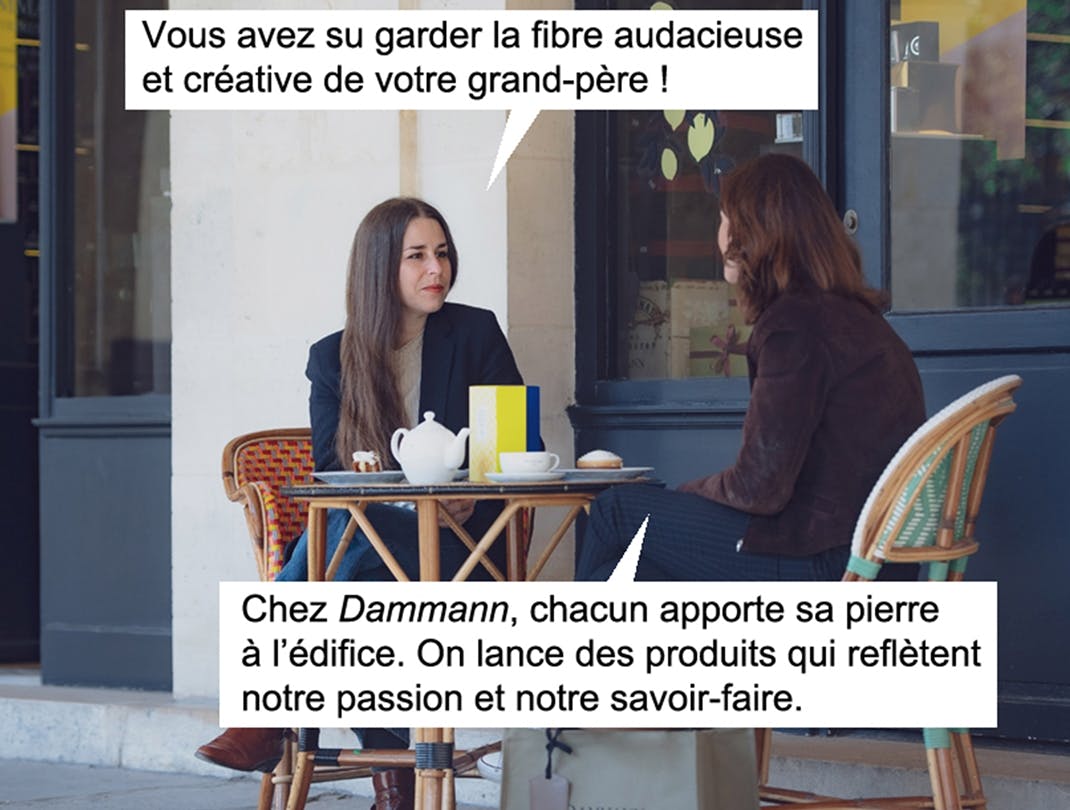 Lia ROCHAS-PÀRIS: Talking of chairs, what led you to collaborate with Louis DRUCKER?
Flora JUMEAU-LAFOND: We've always liked the idea of sharing, of telling real stories with real meaning, and combining the wealth of our experiences. We decided we wanted to work with DRUCKER last September. We realized we all wanted to be sitting outside cafés and thought our customers probably did too! Our marketing director Pierre had the Maison Louis DRUCKER book, and it all came together while browsing through their bistro furniture. We got in contact, and they were really open to the idea. It all happened easily.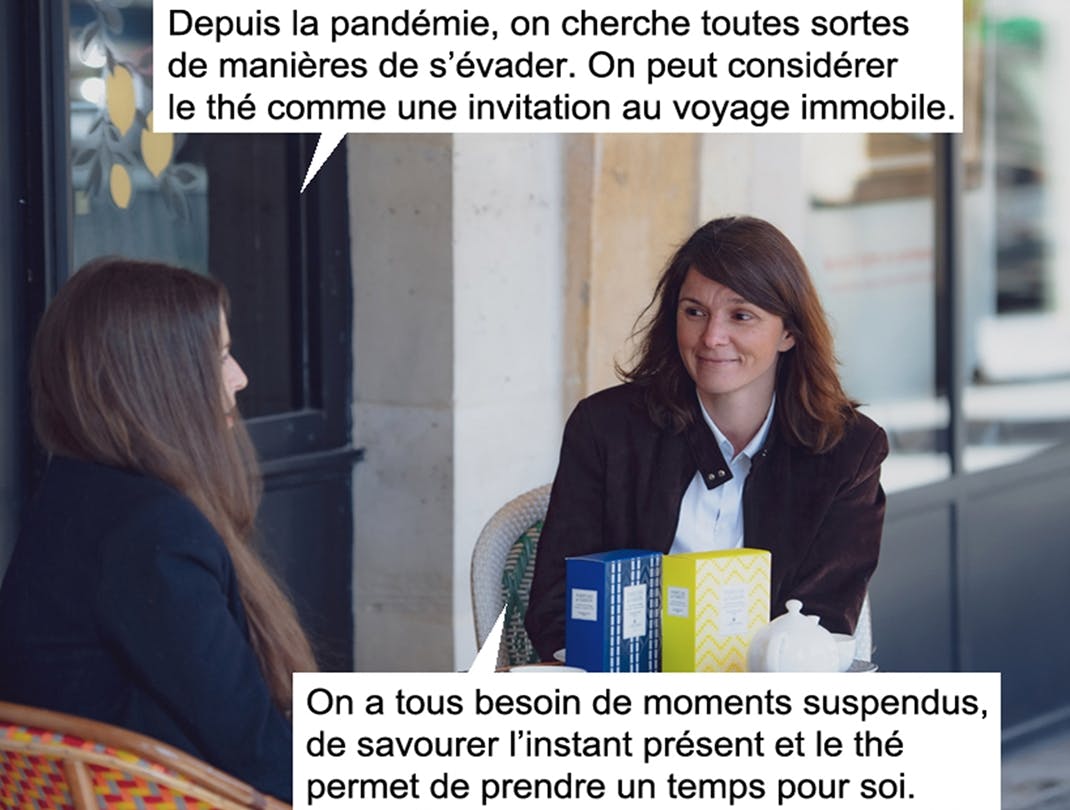 Lia ROCHAS-PÀRIS: A meeting between two French producers drawing on authentic craftsmanship. Your collaboration resulted in the creation of three beautiful gift sets found in your respective universes. It was a great success!
Flora JUMEAU-LAFOND: They put their trust in us. We tested out new graphic design techniques and the canework comes out beautifully in the reliefs on the box. The team at Louis DRUCKER were really pleased, as were we. We hope our customers will enjoy the collection as much as we enjoyed designing it!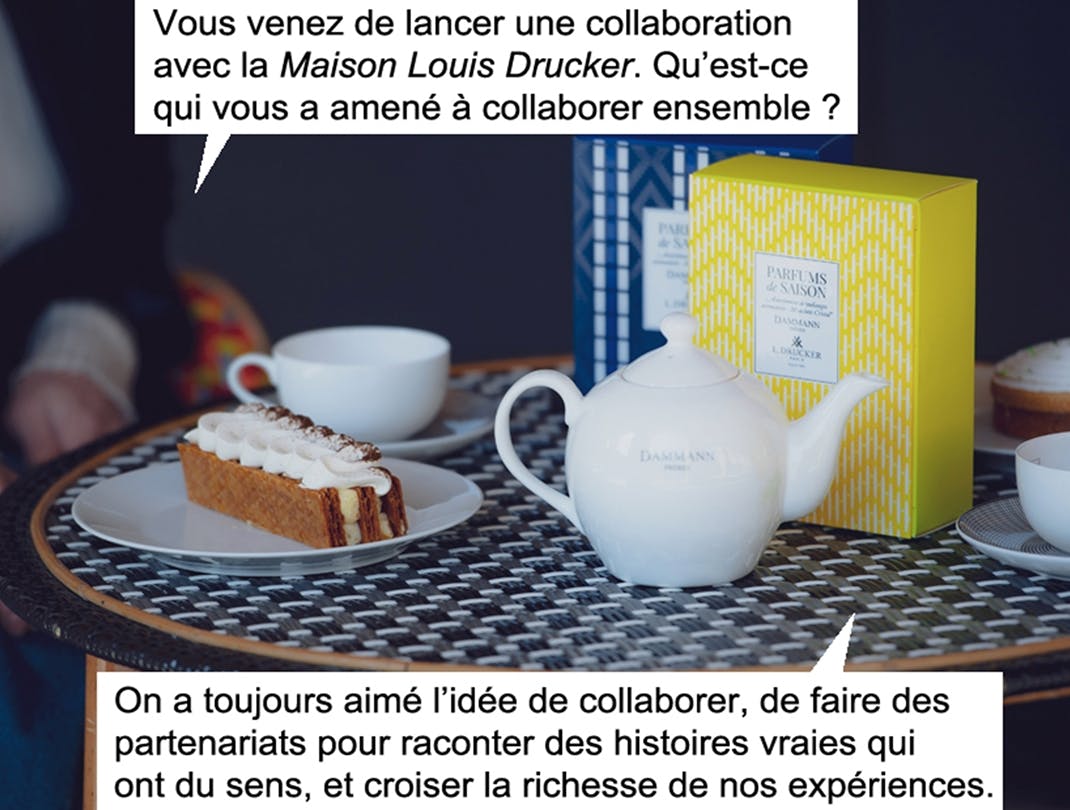 Lia ROCHAS-PÀRIS: You created three boxes. One green, one blue and one yellow. Each box has its own colour and also its own pattern of canework. What are inside the boxes?
Flora JUMEAU-LAFOND: They are introductory box sets. They contain a variety of teas and infusions introducing a range of seasonal flavours. As in fashion, we create two collections, a spring-summer collection, and an autumn-winter collection. Given our desire to be out on café terraces, this collaboration was part of the spring-summer collection. Our three Louis DRUCKER box sets contain the same teas and infusions: Palm Beach, Jardin Vert, Jardin du Luxembourg, Mélange Mystérieux and the herbal tea Happy Dreams. Our catalogue contains 300 different flavours and this box set offers our customers the chance to discover just a few.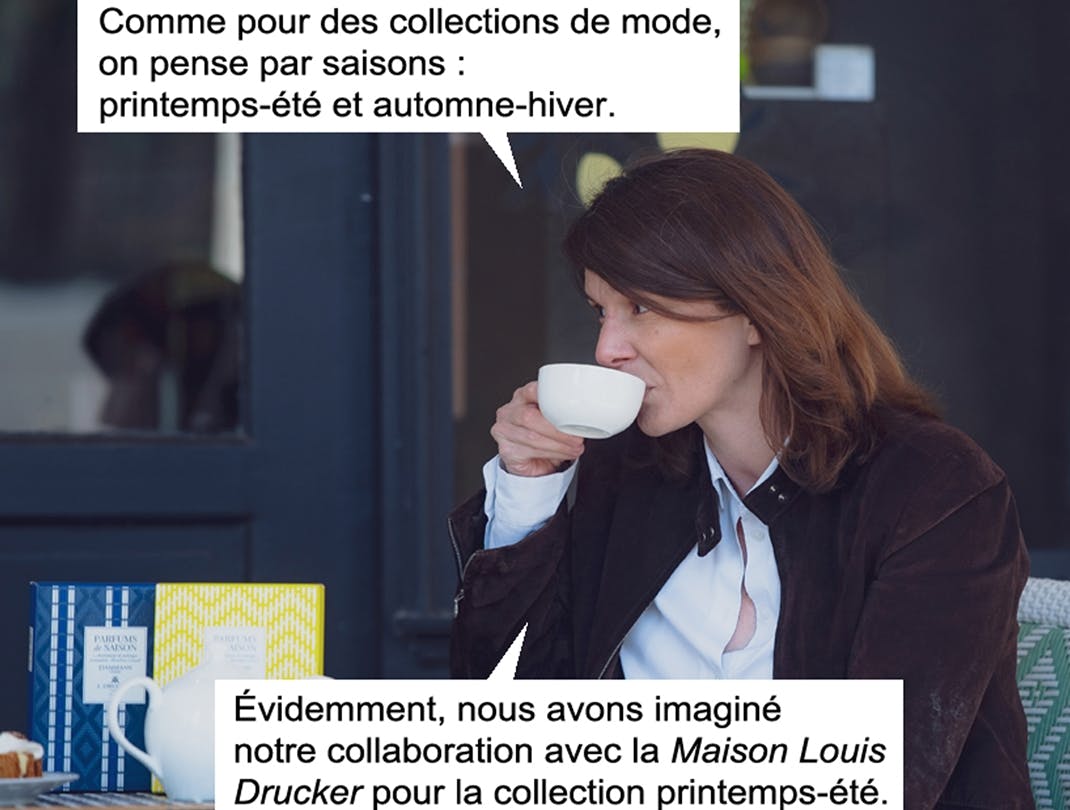 Lia ROCHAS-PÀRIS: And each box contains a postcard! Another invitation to travel!
Flora JUMEAU-LAFOND: Yes! And to share! It's unbelievable how nice it can be to receive a card through the letterbox.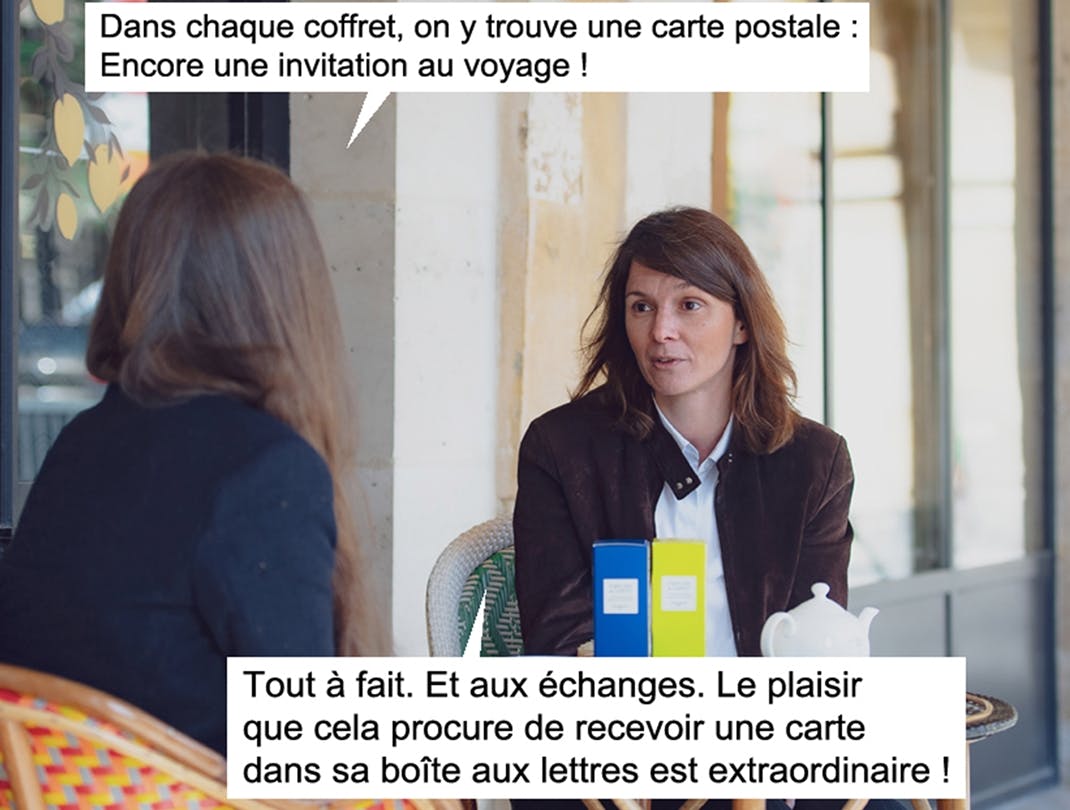 Our selection of seasonal teas
Our articles on DAMMANN Frères partnerships
Our articles on DAMMANN Frères partnerships