2021-06-29
MICHELIN STARRED CHEF GUILLAUME SANCHEZ x DAMMANN FRÈRES
Two first recipes to discover and easily reproduce at home accompany the summer for a gourmet season signed by Guillaume Sanchez X Dammann Frères.
DAMMANN FRÈRES has always maintained close links with gastronomy and works with many restaurateurs and chefs for whom the selection of teas and infusions offered in their establishments is as important as the attention paid to the choice of local products, food artisans, market gardeners and wine growers with whom they compose their menus.
With Guillaume Sanchez it was a real crush!
Creator of a unique cuisine combining tradition and modernity, Guillaume Sanchez likes to believe that today's cuisine must be a free and lasting expression of his terroir, carried by the seasons and redrawn over the course of healings and wounds of our environment. Used as aromatics, teas and herbal blends participate in the subtle balance of new and original creations imagined by this creator always seeking to offer lovers of taste adventures, unique experiences full of depth and sensations.
STRAWBERRY SORBET CREATED BY GUILLAUME SANCHEZ WITH OUR HERBAL MIX MINT CHAÏ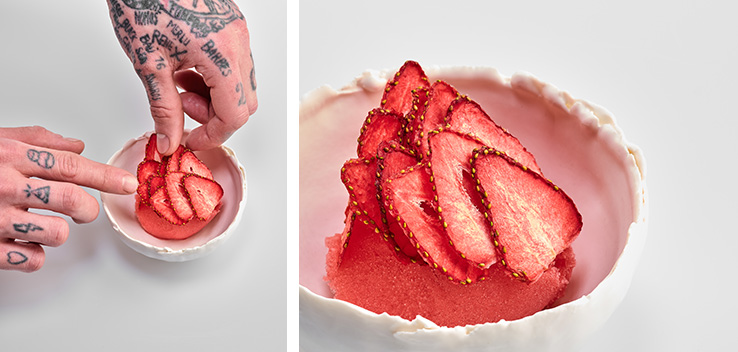 Strawberries (1 kg for the sorbet + 200 g for the dehydrated strawberries slices)
Sugar - 4.41 oz
Water - 25 cl
Lemon - 1 piece
MINT CHAÏ herbal mix - 0.42 oz
DEHYDRATED STRAWBERRIES : Preheat your oven to 170/190° F. Boil the water and the sugar, add the MINT CHAÏ herbal tea and let infuse for 4 to 6 minutes and let cool to around 150° f. Cut the strawberries into thin slices of about 2 mm and let macerate for 30 minutes in part of the cooled infusion. Drain and then spread the spaced slices out on baking paper and on a baking sheet. Dry in the oven for 60 minutes. Watch the cooking, the slices must remain red and not darken.
STRAWBERRY SORBET : Slice the strawberries and heat them in a saucepan. Filter and pour over the strawberries the remaining infusion, mix everything together, add the juice of a lemon. Freeze in an ice cream maker. When serving, decorate the sorbet with a few slices of dehydrated strawberries.
SEX ON THE BEACH COCKTAIL IMAGINATED BY GUILLAUME SANCHEZ WITH OUR FLAVORED GREEN TEA ENJOY SUMMER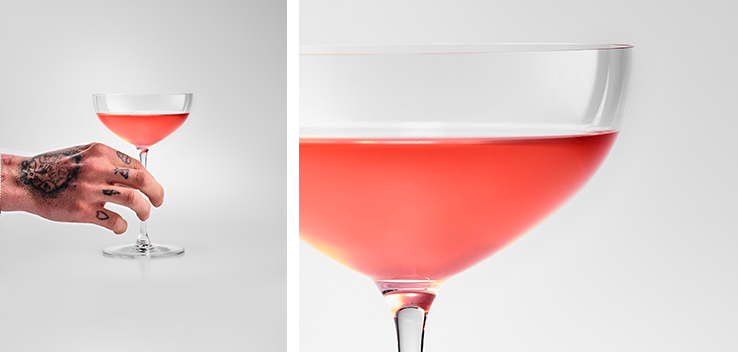 PREPARE AHEAD OF THE COCKTAIL :
Fresh almonds - 50 g
Fresh water - 30 cl
ENJOY SUMMER iced tea - 1 tea bag (5g)
MAKING THE COCKTAIL :
Vodka* - 3 cl
Kernel liquor - 3 cl
Almond water - 3 cl­
Infusion of cold tea in almond water - 5 cl
Cranberry juice or fermented fresh juice - 3 cl
Pineapple juice - 1 cl
Infuse the ENJOY SUMMER iced tea bag in the almond water for about 4 hours. Pour in the shaker, all the ingredients: vodka, infused almond water, kernel liquor, cranberry juice and pineapple juice. Shake vigorously for 10 seconds and serve on ice.
Alcohol abuse is dangerous for your health­­­
Photo credit © Studio7ept
Products associated to this
Green tea
Green tea - Enjoy summer
Green tea
Enjoy summer, Box of 100G
Green tea
Enjoy summer - box of 6 sachets for iced tea...
Posted on: Blog featured posts, Cook your tea, Our videos