Christmas tree biscuits with "Tisane de Noël" : recipe
Ingredients: for approximately 40 biscuits.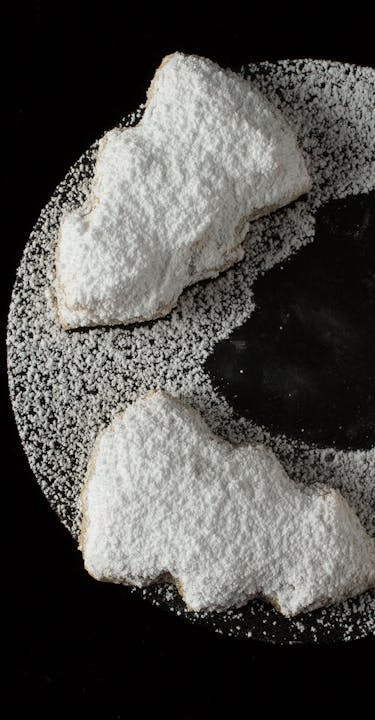 Ingredients:
■ Powdered almonds: 225g
■ Caster sugar: 225g
■ "Tisane de Noël": 20g (reduce the Christmas herbal tea to powder with a mortar or using a coffee grinder, sift the powder to remove the bits that are too thick)
■ 2 egg whites
■ 1 table spoon of lemon juice
■ Brown sugar
Preparation,
This recipe requires the dough to be left to rest, so it's better to prepare it the day before you cook it.
1- Having added a pinch of salt, beat the egg whites until stiff. Add the sugar slowly while continuing beating.
2- Remove the equivalent of a cup of coffee of the beaten egg white which will later be used for the icing.
3- Add the powdered almonds, the powdered Tisane de Noël and the lemon juice. Make a dough ball.
4- Cover your work top with a layer of brown sugar. Roll the dough to a thickness of 5mm.
5- Cut the dough with a cookie cutter, giving it the shape of Christmas trees (or any shape you wish). To avoid the cookie cutter sticking to the dough, rinse it regularly in cold water. If this does not work, you can also put your cookie cutter on the brown sugar layer and fill it with dough using a spoon. Flatten the dough into the cookie cutter with your finger (after first rinsing in cold water).
6- Place the Christmas trees, as you make them, on a greaseproof paper on a baking sheet. Fill a piping bag with the remaining beaten egg white and ice the shapes with this preparation. Leave to dry for at least twelve hours.
7- Cooking: Pre-heat the oven to 410°F. Cook for 5 minutes or less while keeping an eye on the oven as the icing can very quickly change colour.
Our selection of Christmas herbal infusions
All our recipes based on tea and herbs to infuse