"Miss Dammann" green tea sliced scallops : recipe - by the Chef Guillaume SANCHEZ
A recipe of the Michelin-starred chef Guillaume SANCHEZ for DAMMANN Frères.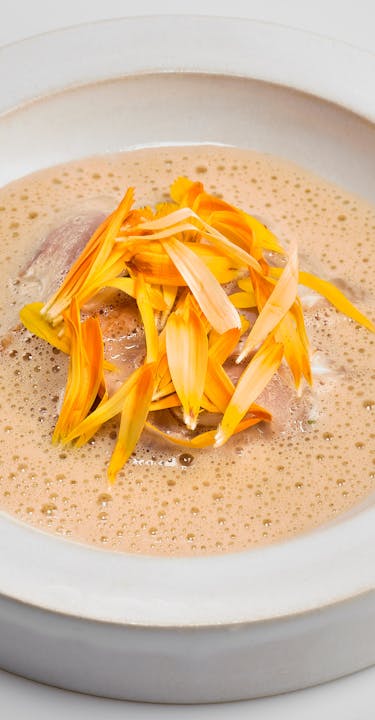 Ingredients for 4 persons,
Preparation 30 minutes - Cooking 15 minutes
■ Scallops - 8 pieces
■ White wine 5cl
■ Shallot - 1piece chopped
■ Onion - 1 piece chopped
■ Garlic - 1 clove chopped
■ Butter - 50g
■ Water - 50cl
■ Miss Dammann green tea - smoking 20g / cooking 4g
Preparation,
1- Open the shells, remove the coral, and set them aside.
2- In a saucepan, melt in a drizzle of oil, the chopped shallot, onion and garlic and leave to color.
3- Add the coral and let it color it also.
4- Deglaze with white wine and add the water. Reduce by half over low heat and let fall to about 149°F
5- Low down the reduction to about 149°F and let infuse Miss Dammann green tea for 3 minutes. Filter and reduce again by half and keep warm. Adjust the seasoning if necessary, with salt and pepper.
6- In a saucepan, heat your tea dry. Wait until tea smoke, then place the scallops on top of a steamer tray and smoke them with the tea (about 3 minutes).
7- Once the scallops smoked, cut them into slices and lay them on plates. During smoking the scallops, slightly heat the reduction, whip to make the sauce foaming by adding cold butter knobs.
8- Pour the sauce on the scallops and finish by scattering fresh seasonal herbs and flower petals.
Enjoy !
Our selection of Miss Dammann green tea products
All our recipes based on tea and herbs to infuse