'Noël à Paris" tea biscuits : recipe
Ingredients: for approximately 40 biscuits.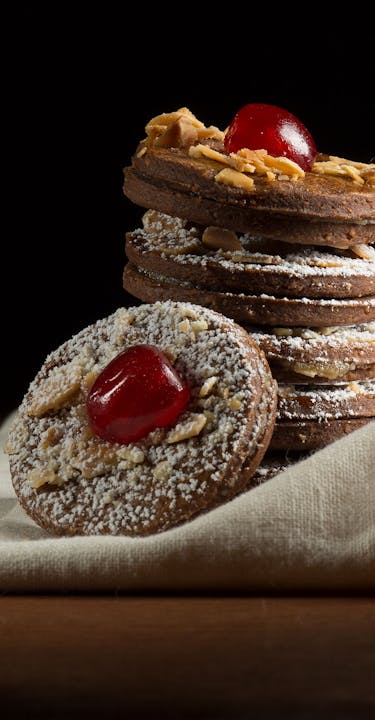 Ingredients :
■ Flour 200 g
■ Icing sugar 50 g
■ Butter 150 g
■ Powdered almonds 160 g
■ 1 teaspoon cinnamon
■ 1 teaspoon cocoa
■ The zest of half a lemon
■ 1 egg
■ 1 pot of specialty tea "Noël à Paris"
Preparation,
1- In a bowl, mix the flour, icing sugar, cinnamon, cocoa, powdered almonds (100 g) and the lemon zest.
2- Add the butter in chunks and work the dough by hand. Add the egg and knead until the dough is homogenous and smooth.
3- Film the dough and refrigerate it for one or two hours.
4- Pre-heat the oven to 356°F
5- Spread the dough on a work-top which is slightly covered with flour.
6- Cut the dough into round shapes with the cookie cutter. You may wish to cut full shapes as well as shapes with a hole in the middle. Don't discard the leftover dough and continue cutting until there is no more dough left.
7- Cook each batch on a baking sheet for 8 to 9 minutes while keeping an eye on the oven. Let the cooked batch cool. While the biscuits are in the oven, mix the specialty tea with the remaining 60 g powdered almonds.
8- Fill the full and hollow biscuits with this preparation. Sprinkle with icing sugar and enjoy.
Our selection of Christmas teas
All our recipes based on tea and herbs to infuse