Spring crops
The harvest of spring teas (also named 1st fush tea) is the most prized of all the tea harvests.
It is the one that will produce the 'grands crus' most sought after by connoisseurs. They are harvested after the tea plant is dormant, a period during which its growth slows down and is no longer suitable for picking. Its buds and young leaves are then loaded with essential oils to offer the teas an exceptional aromatic complexity.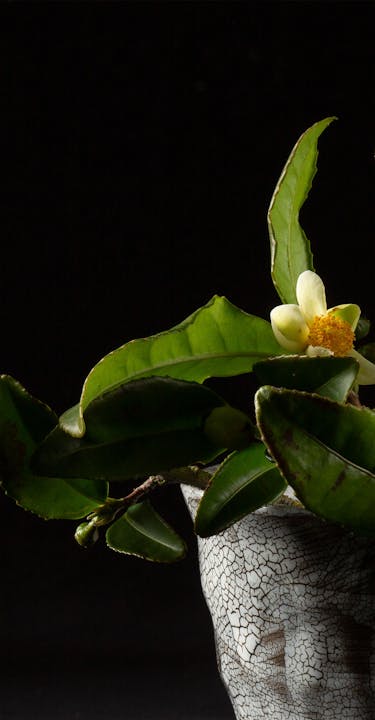 CHINESE NEW CROPS 2022
Tea from China - Huoshan Huang Ya Premium 1ST Flush - box of 40g
Harvested before the festival of clear lights (QingMing),on March 25, 2022 in the Anhui region in the village of Jiangzihe in the heart of a family farm. On this condential production we received a batch of 30 kg for which, 80 kg of fresh leaves were picked.
Tea from China - Shaoguan Bai Mao Jian 2022 - box of 40g
Issued of a manual harvest of ne buds made on March 22, 2022 before QingMing from the Guangdong area to Renhua village. Mr. Luo, producer for 30 years in a family plantation located at 600M altitude, has reserved us an exclusive lot of 20 kg on a total production of this first harvest of 200 kg.
SPRING NEW CROPS 2021
Tea from Japan - Shincha Kawane Excellent
Green tea from Japan. Fine spring harvest from the Shizuoka area (Moto- Fujikawa district). A tea with long needles of a beautiful dark green color with a scent of brown sugar. A pale green infusion delivering fresh and vegetal aromas evoking cut grass and fresh walnuts, with an iodine and slightly astringent persistence.
Tea from Japan - Shincha fujieda Kaori 1st Flush
Green tea from Japan. Harvested in April from a cultivar exclusively cultivated in Fujieda (Zhizuoka prefecture), this tea presents dark green needles with yellow re ections owes its specific aroma to a withering in the sun. A warm & intense attack, notes of cooked vegetables (water chestnuts). A slightly iodized, silky, mild infusion with a milky and vegetal finish reminiscent of fresh almonds.
Tea from Japan - Oolong Sofu 1st Flush
Rare Japanese Oolong tea from Tokunoshima Island. Made from tea plants of the Sofû cultivar, its delicately rolled leaves exude a flowery and sweet scents. Slightly iodized, a creamy infusion, well balanced between foral, vegetal and yellow fruits notes (apricot, yellow peach), with a light astringent finish.
Tea from China - Huoshan Huang Ya Supreme 1st Flush
Yellow tea from China. Handpicked at an altitude of 700 m before Qing-Ming, this yellow tea from Anhui province is one of the 10 most famous teas in China. Beautiful whole leaves of green-yellow color having undergone a very light fermentation deliver an enveloping, vegetal and gourmet liquor with notes of cooked chestnut with a finish without astringency.
DARJEELING PHUGURI F.T.G.F.O.P.
Particularly well-balanced lot that will appeal all lovers of sweet and flowery notes as well as vegetal notes, characteristic of a spring harvest from Darjeeling.
DARJEELING THURBO F.T.G.F.O.P.
Lot combining floral and dried apricot notes with a subtle bitterness and astringency. Pyrogenic notes that can also be found in LUNG CHING Chinese Green tea or PHOENIX Chinese Oolong tea.
Our selection of spring crops
Our articles on single-origin tea
Our articles on single-origin tea
All our latest product news
All our latest product news