Smoked celeriac supreme with Smokey Lapsang - by the Chef Guillaume SANCHEZ
Smoked celeriac supreme recipe with Smokey Lapsang black tea, created by Michelin-starred Chef Guillaume SANCHEZ.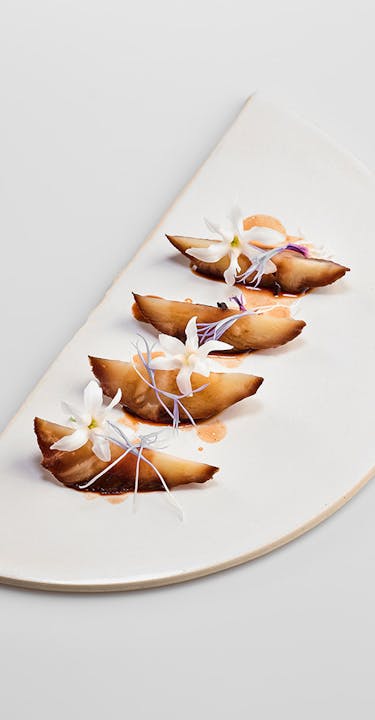 Ingredients,
■ 1 Celeriac
■ 3 g of salt
■ 3,51 fl oz of water
■ 4 g of Smokey Lapsang black tea
Préparation,
1- Peel your celeriac, put it with water, salt and tea in a vacum bag (if you do not have the possibility of vacuum-bagging, wrap all ingredients well in cling film).
2- Place your bag in enough water to completely cover your celeriac and cook in the oven for 8 hours at 85°c under vacuum.
3- Leave to stand for 8 hours maintaining the celeriac under vacuum at room temperature.
4- Open the bag, strain the juice and reduce it by half.
5- Slice celeriac supremes, glaze them with the tea sauce (sauce that will replace any soy sauce but in a vegan version)
6- Decorate with borage flowers which brings an iodized note to the tasting.
Our selection of smoked black teas
All our recipes based on black tea
All our recipes based on tea and herbs to infuse